ABOUT UKIYO-E KURASHIKI
UKIYO-E KURASHIKI is a project promoting the fascinating world of ukiyo-e art from the Kurashiki Bikan Historical Quarter. This quarter was designated in 1642 as a tenryo, a municipality directly governed by the Edo shogunate, and has prospered as a trading hub.Today, the beautiful white-walled streets of the Kurashiki riverside area have carried on the traditions of the Edo period, making it a popular tourist destination for many people from Japan and abroad. Enjoy the world of ukiyo-e in Kurashiki, where the historical atmosphere of the streets still remains.
UKIYO-E KURASHIKI / KUNIYOSHI
UKIYO-E KURASHIKI is a project promoting the fascinating world of ukiyo-e art. As a first project, we revitalized an inn overlooking Kurashiki Bikan Historical Quarter as a home to UKIYO-E KURASHIKI / KUNIYOSHI, the world's first museum that features Utagawa Kuniyoshi. Our collection includes Kuniyoshi's masterpiece Princess Takiyasha Calling up a Monstrous Skeleton Specter at the Old Palace in Soma, as well as many more masterpieces by Kuniyoshi and his disciples. We have around one hundred carefully selected works on display. We would like to welcome you to experience the unique and mysterious world of Kuniyoshi.
UTAGAWA KUNIYOSHI (1797-1861)
Utagawa Kuniyoshi is a prominent ukiyo-e artist who worked in the latter half of the Edo period. In recent years, his popularity has risen not only in Japan but internationally. Kuniyoshi was born in a textile shop in Edo Nihonbashi and became a disciple of Utagawa Toyokuni when he was a teenager but spent a long time struggling as an artist. When he was around 30 years old, he worked on a commissioned series called One Hundred and Eight Heroes of the Popular Water Margin. The series became extremely popular and brought him fame. The public regarded him as Kuniyoshi the Samurai Painter. After that, he continued to work not limited to samurai paintings but on various genres such as actor paintings, paintings of beautiful women, landscapes and caricatures full of humor. His fantastical works continue to influence artists all over the world to this day.
COLLECTION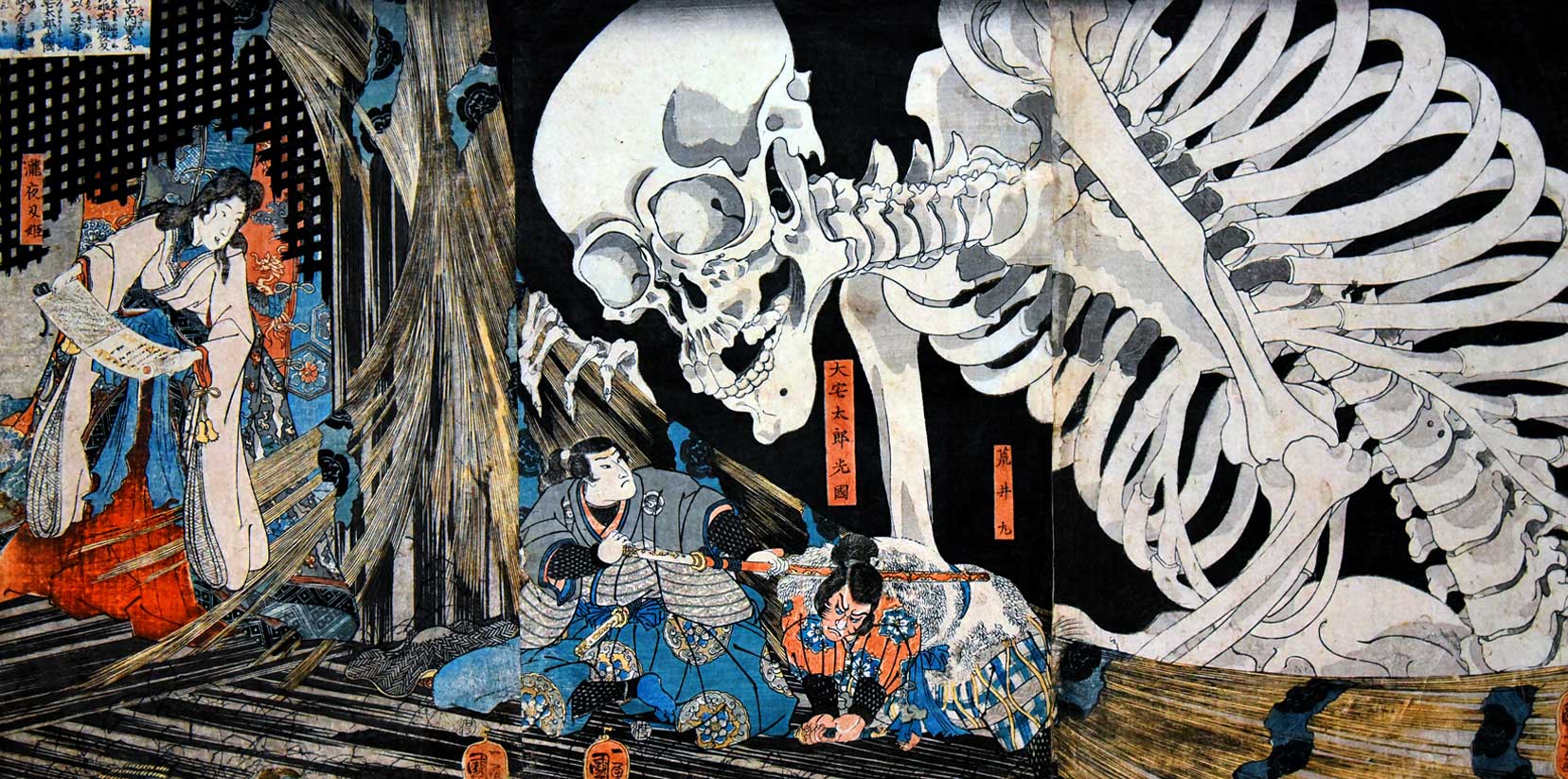 Princess Takiyasha Calling up a Monstrous Skeleton Specter at the Old Palace in Soma
Koka2-Koka3 (1845-1846)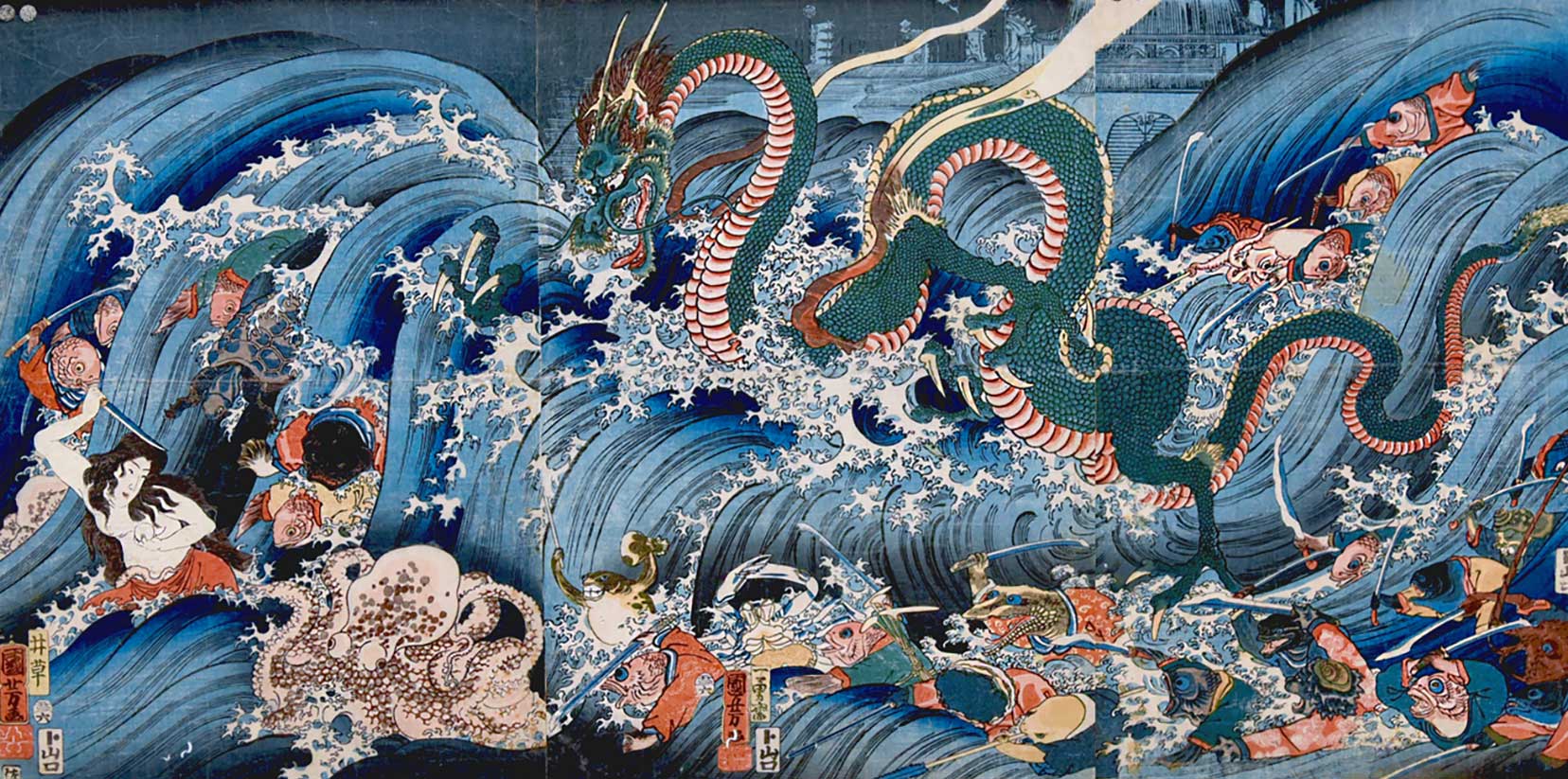 Princess Tamatori Recovering the Sacred Jewel from the Dragon Palace
Kaei6 (1853)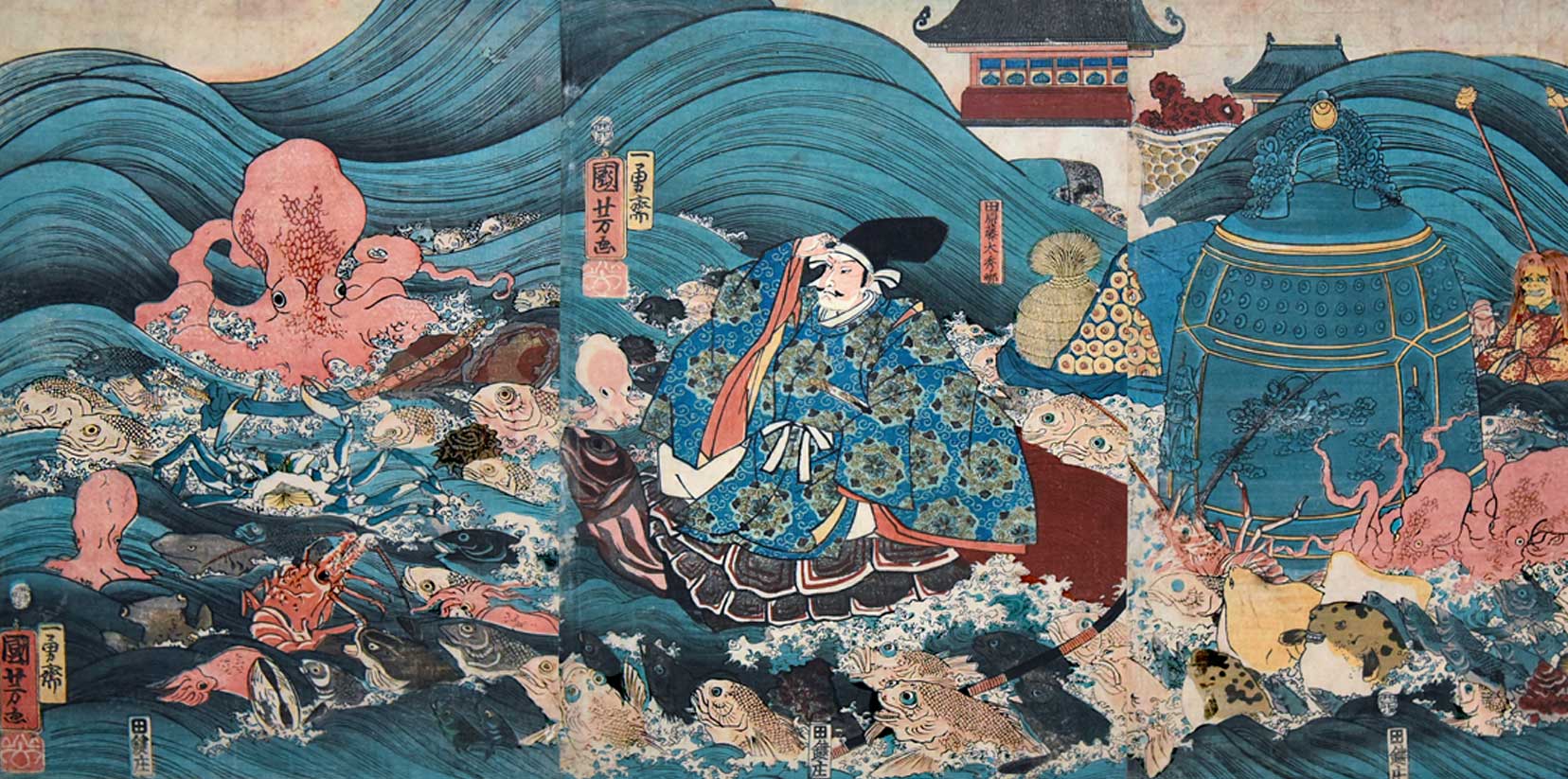 Princess Tamatori Recovering the Sacred Jewel from the Dragon Palace
Kaei6 (1853)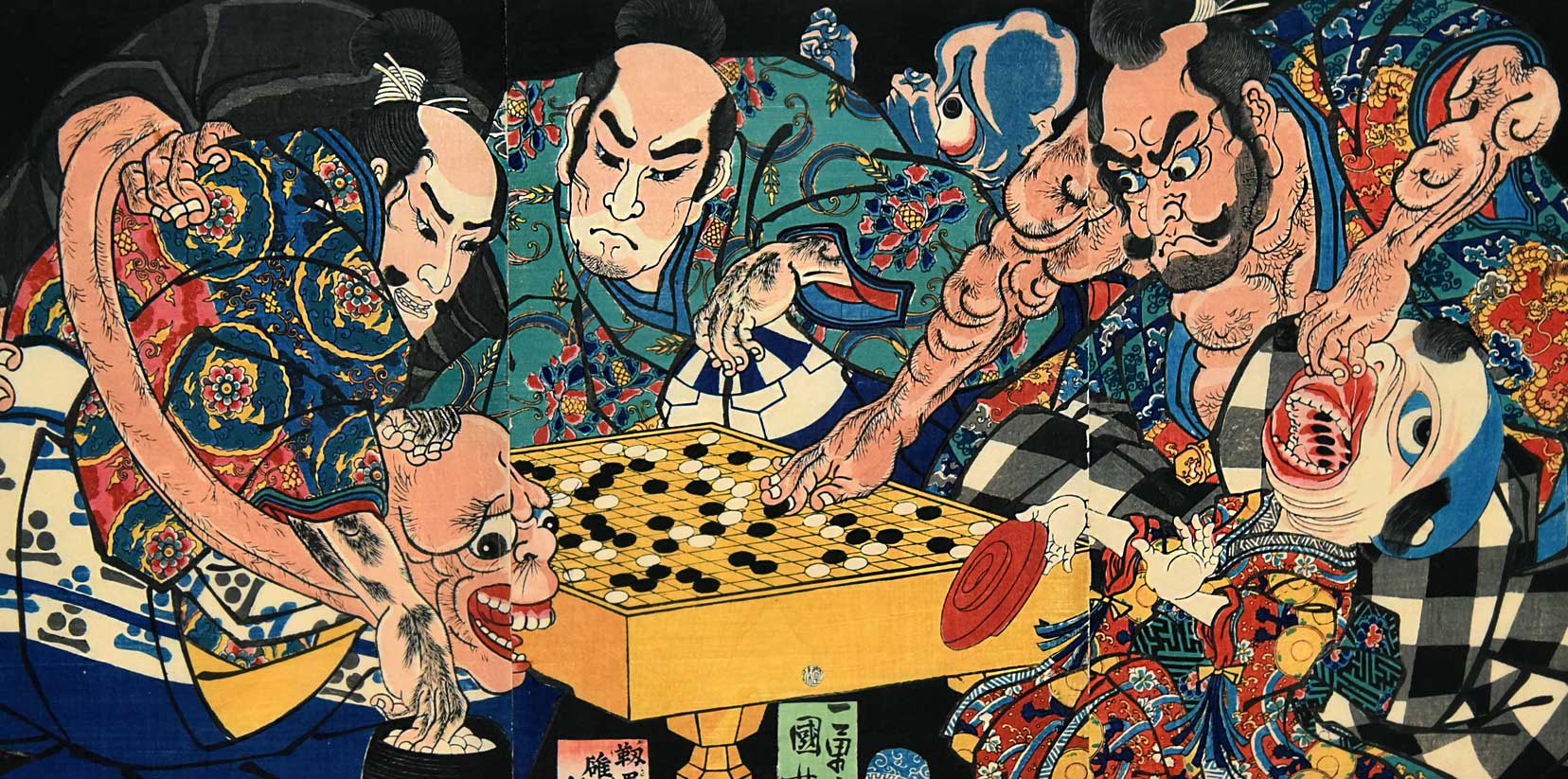 Sakata no Kintoki, Usui Sadamitsu, Genji no Tsuna and Demonic Creatures
Bunkyuu1 (1861)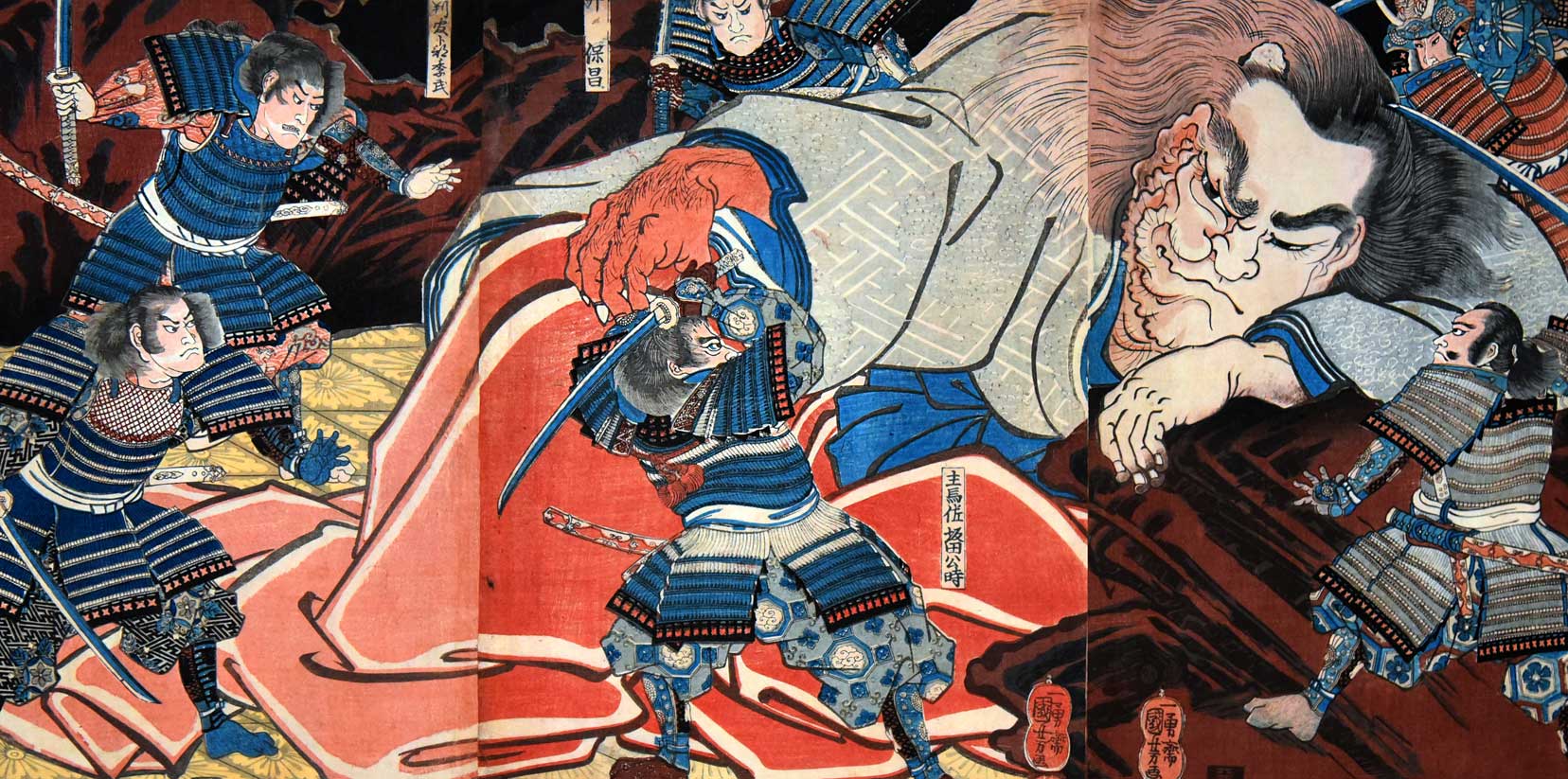 Minamoto no Yorimitsu and His Retainers Attacking the Drunken Monster Shuten-doji on Oe Mountain
Kaei4 (1851)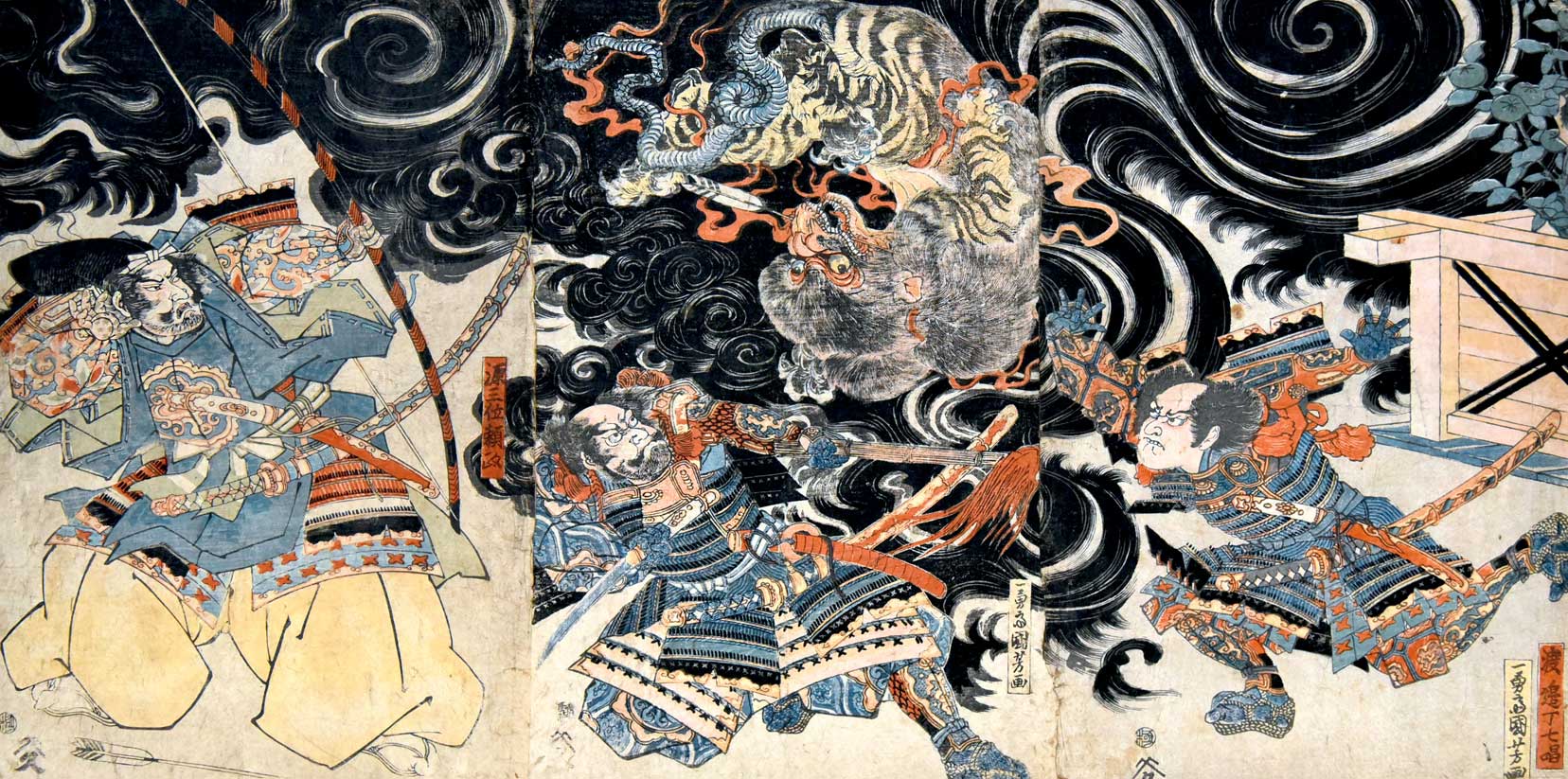 Minamoto no Yorimasa Slaying the Monster Nue
Bunsei9 (1826)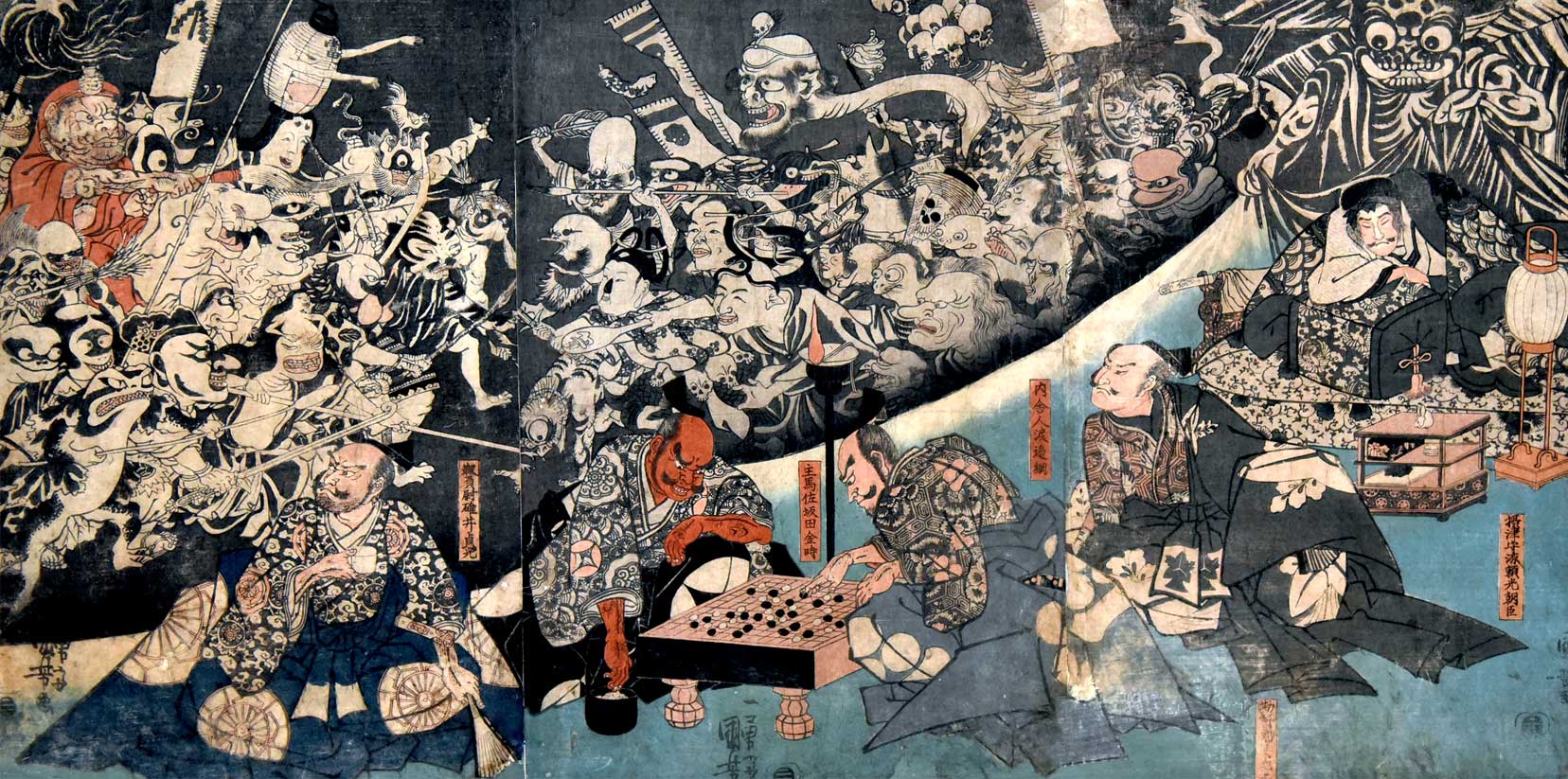 Tsuchigumo Demons at the Mansion of Minamoto no Yorimitsu
Tenpo13-Tenpo14 (1842-1843)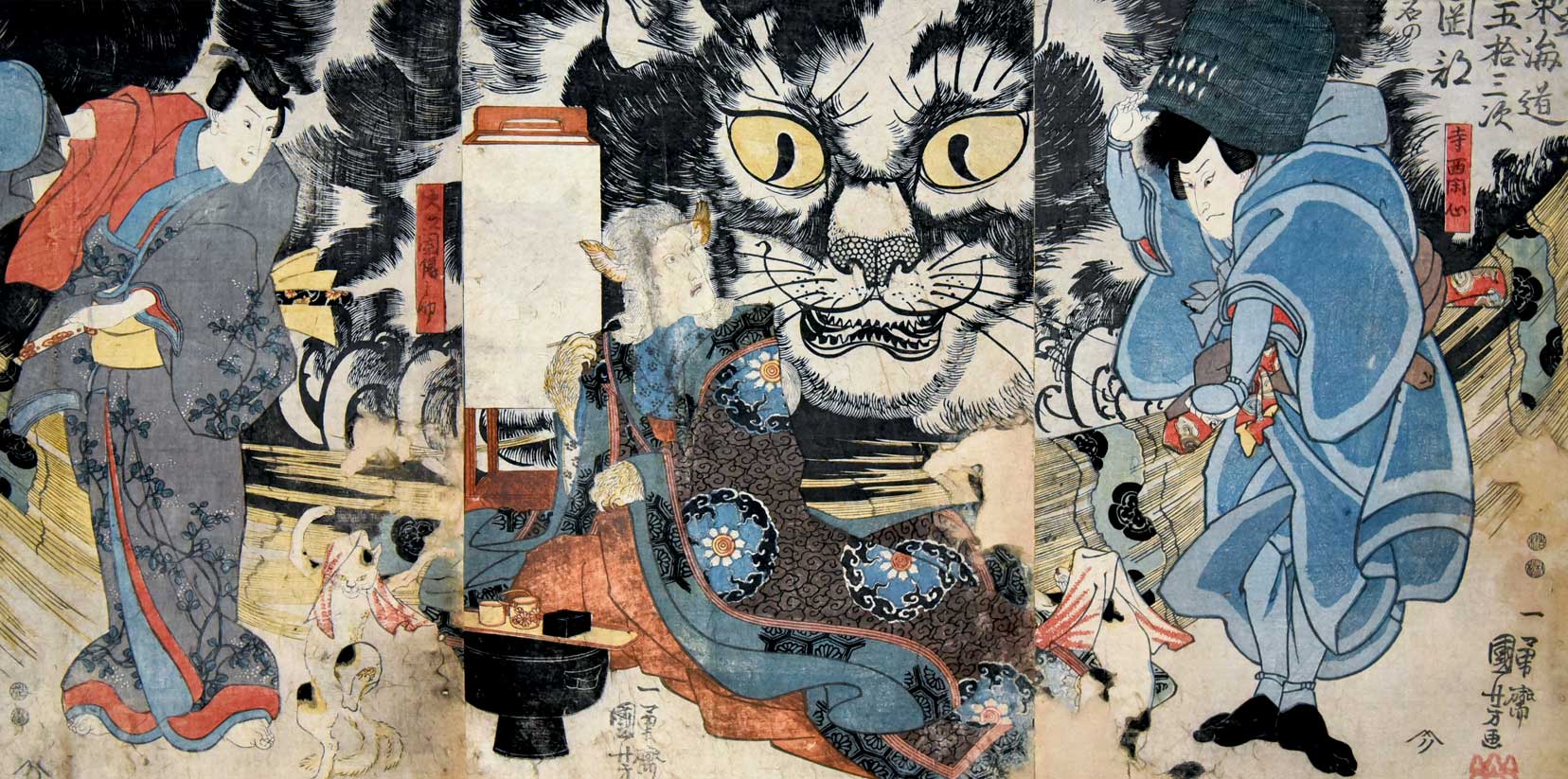 The Origin Story of the Cat Stone at Okabe from the Series One of the Fifty-three Stations of the Tokaido Road
Koka(1847)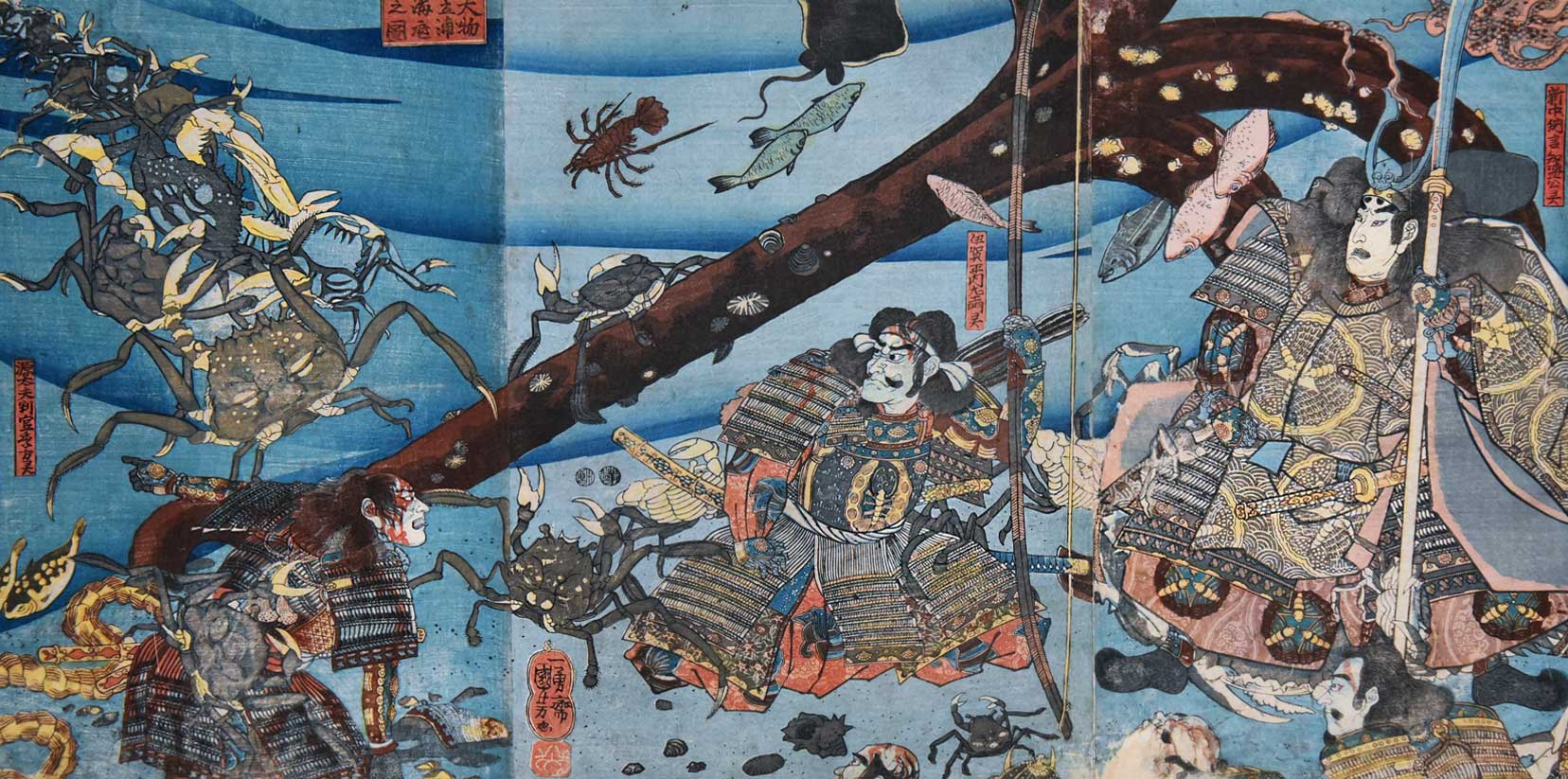 The Heike Ghosts at the Bottom of Daimotsu Bay
Kaei3-Kaei4 (1850-1851)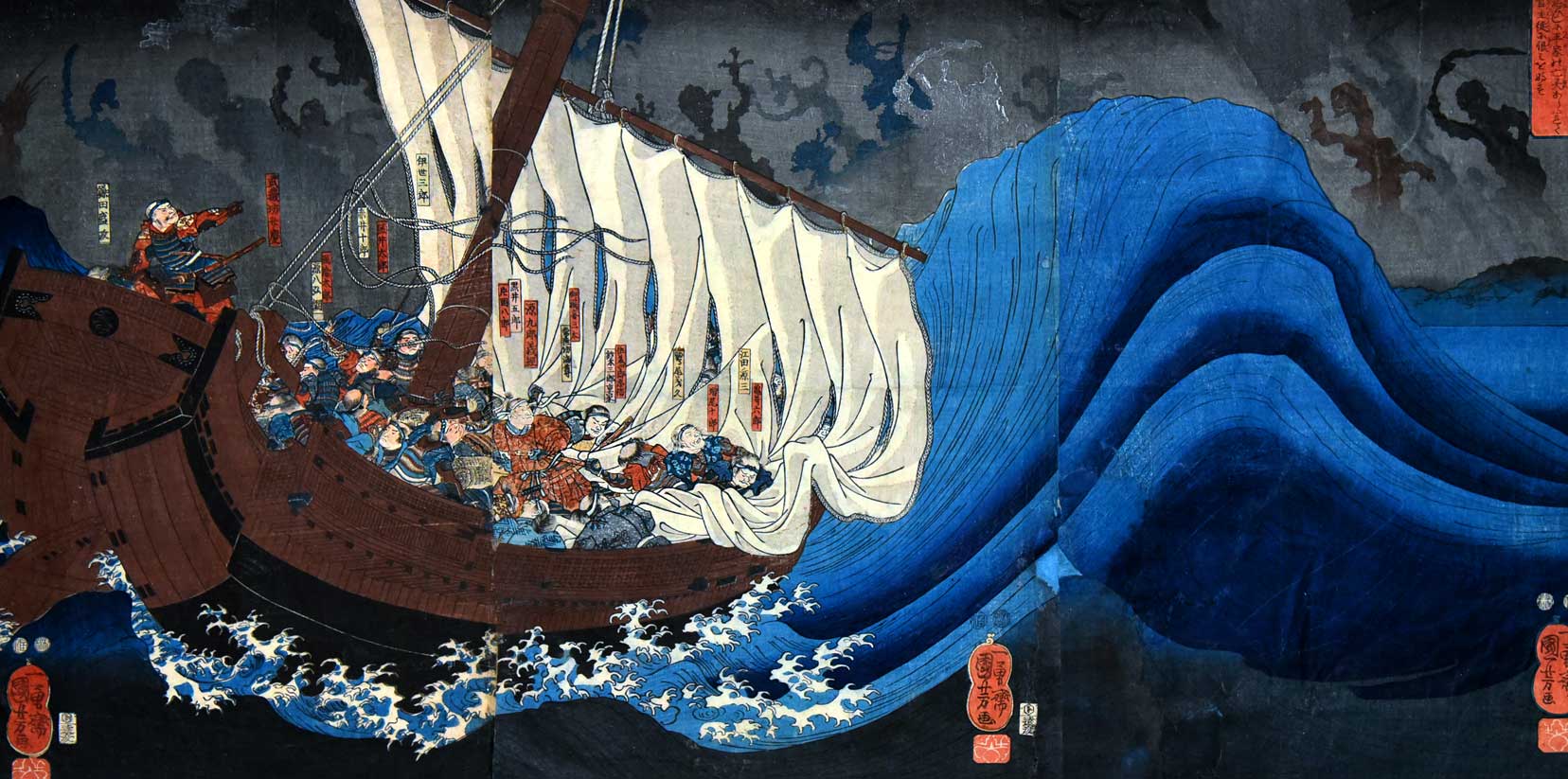 Hike Ghosts Attacking Minamoto no Yoshitsune in Daimotsu Bay
Kaei4 (1851)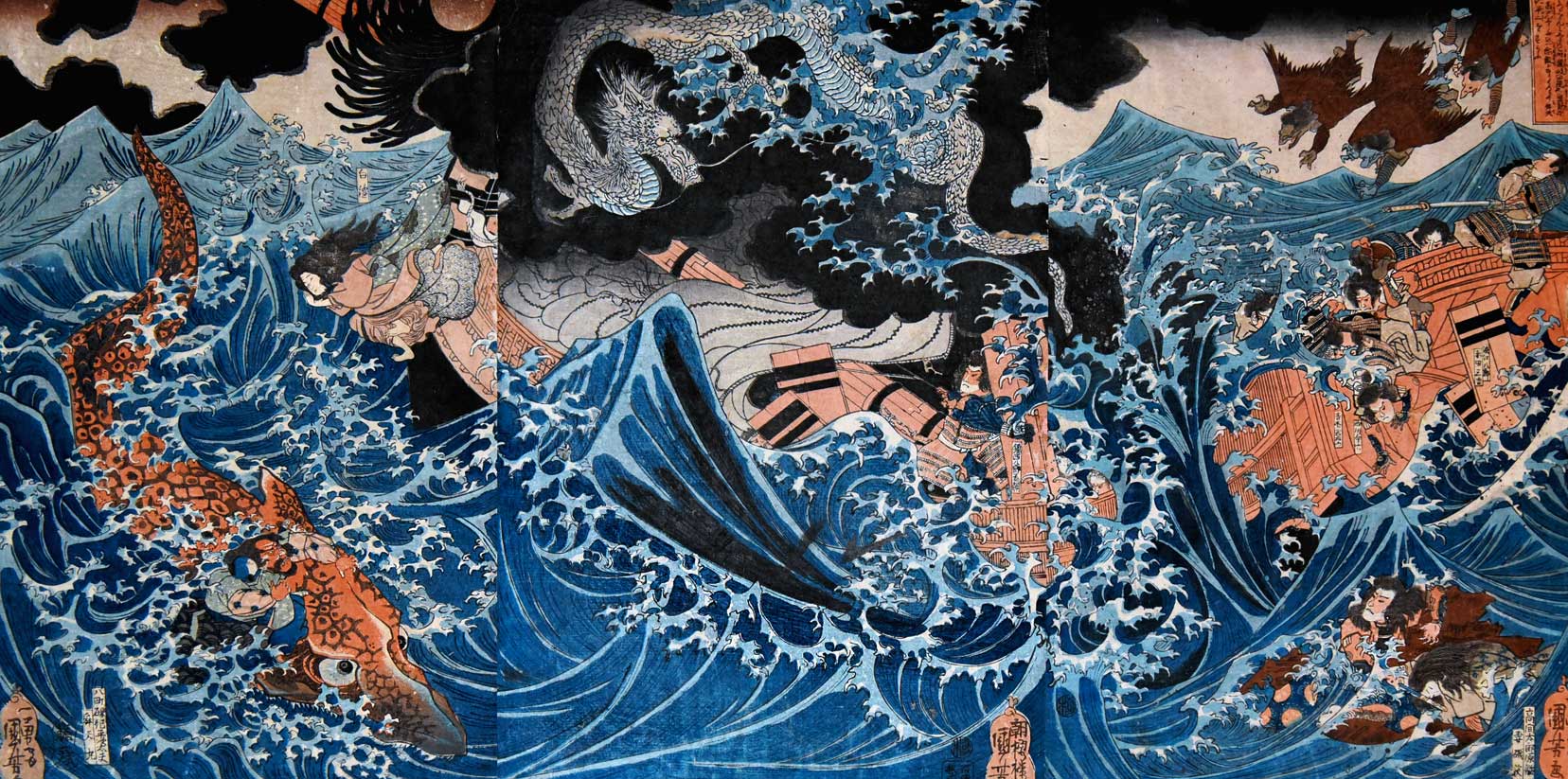 Tametomo Encounters the Storm at Minamata in Higo Province
Tenpo7 (1836)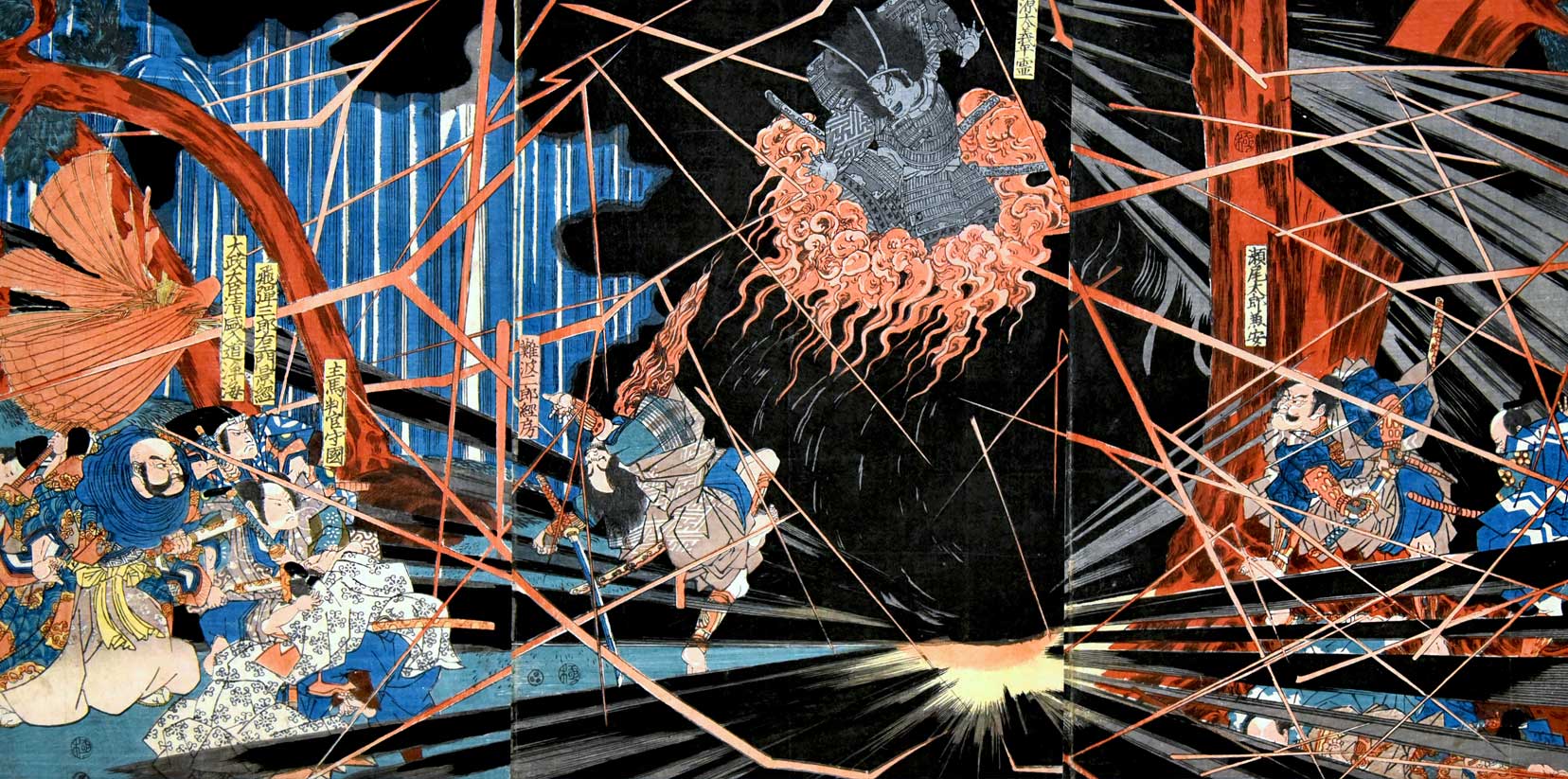 During the Visit of Kiyomori to Nunobiki Waterfall, the Ghost of Akugenda Yoshihira Strikes Down Nanba no Jiro
Tenpo1 (1830)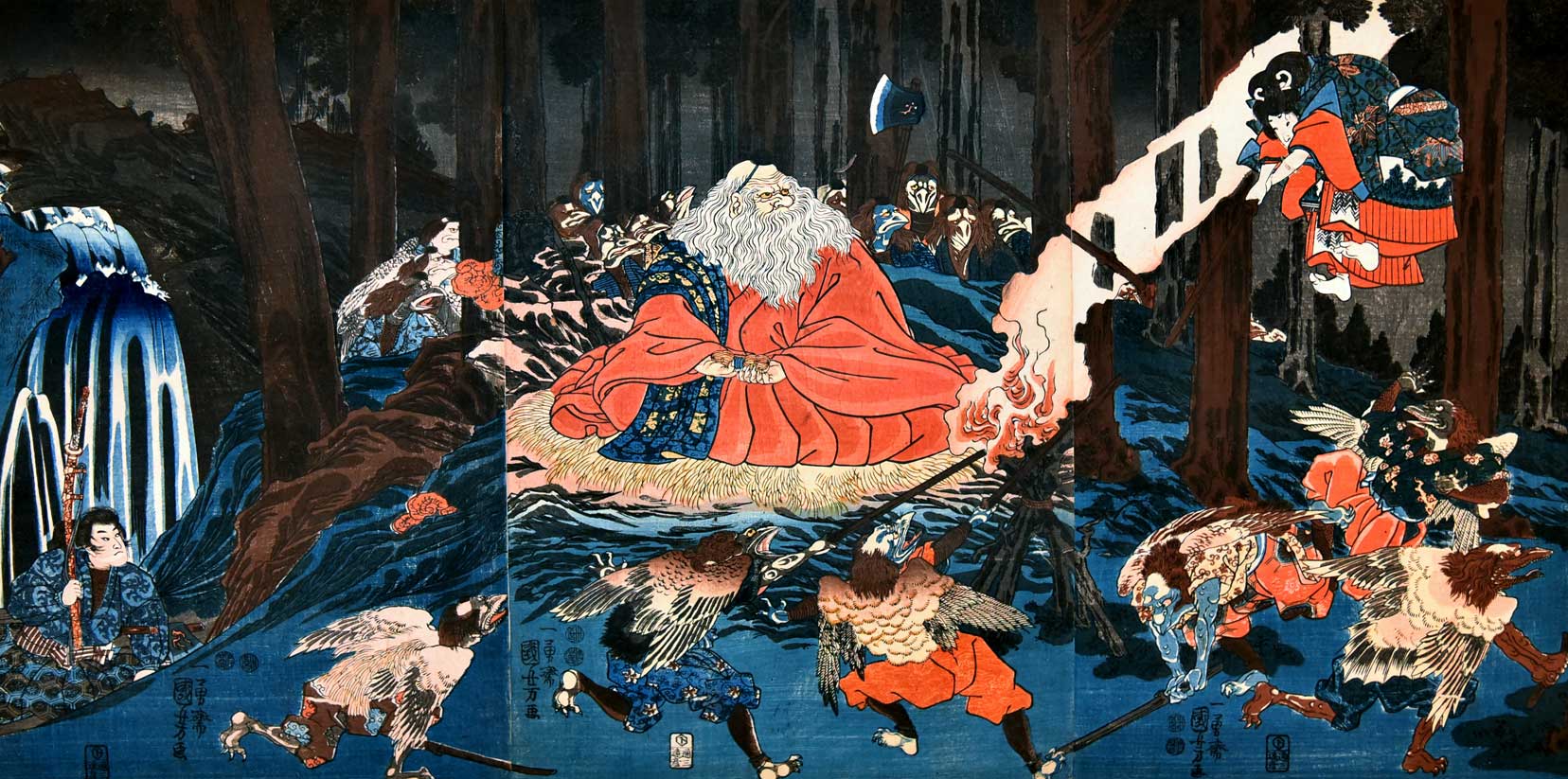 Ushiwakamaru Practicing Fencing Under the Direction of Sojobo, King of the Tengu
Kaei4 (1851)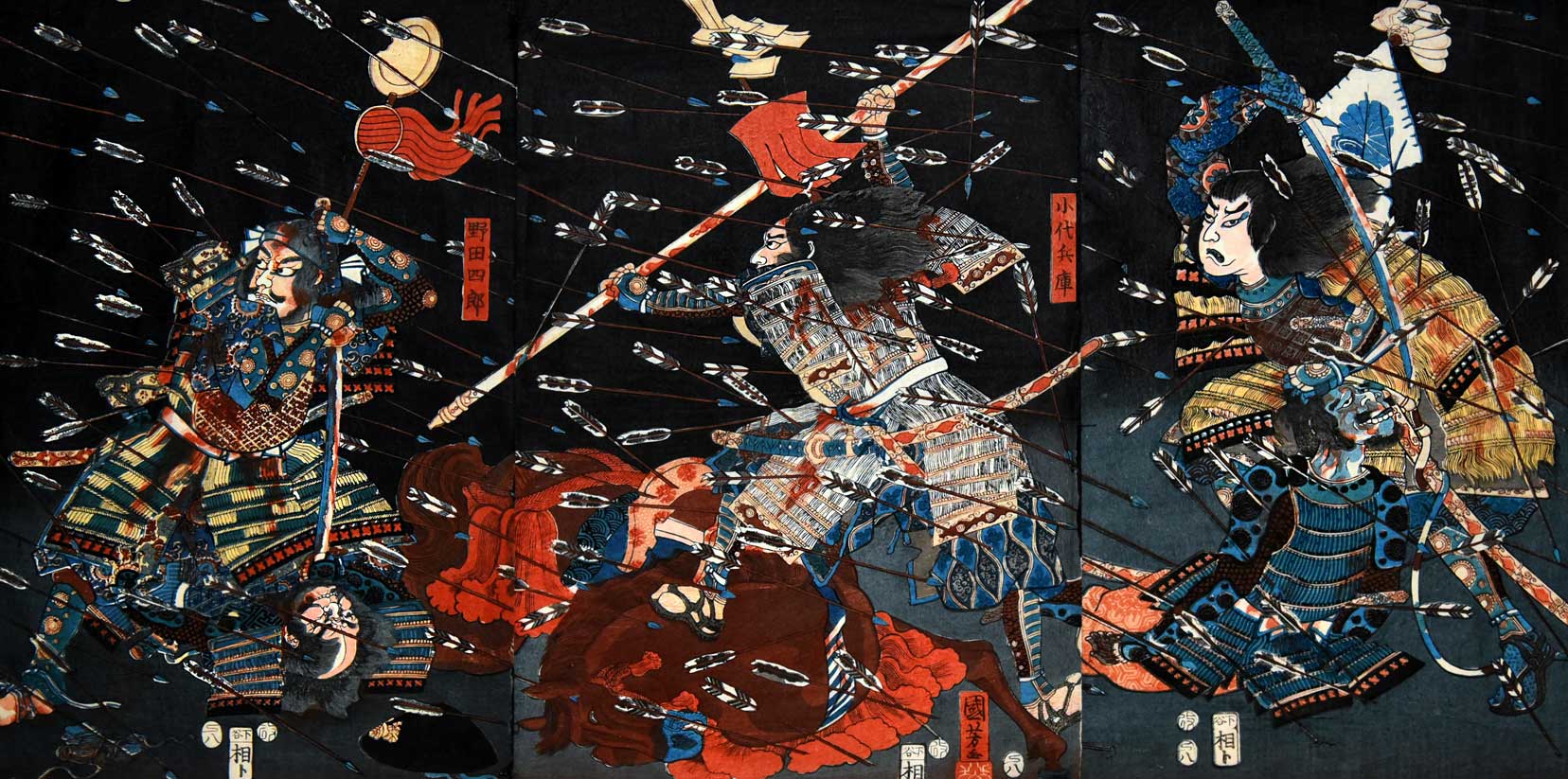 The Battle at Shijonawate
Ansei4(1857)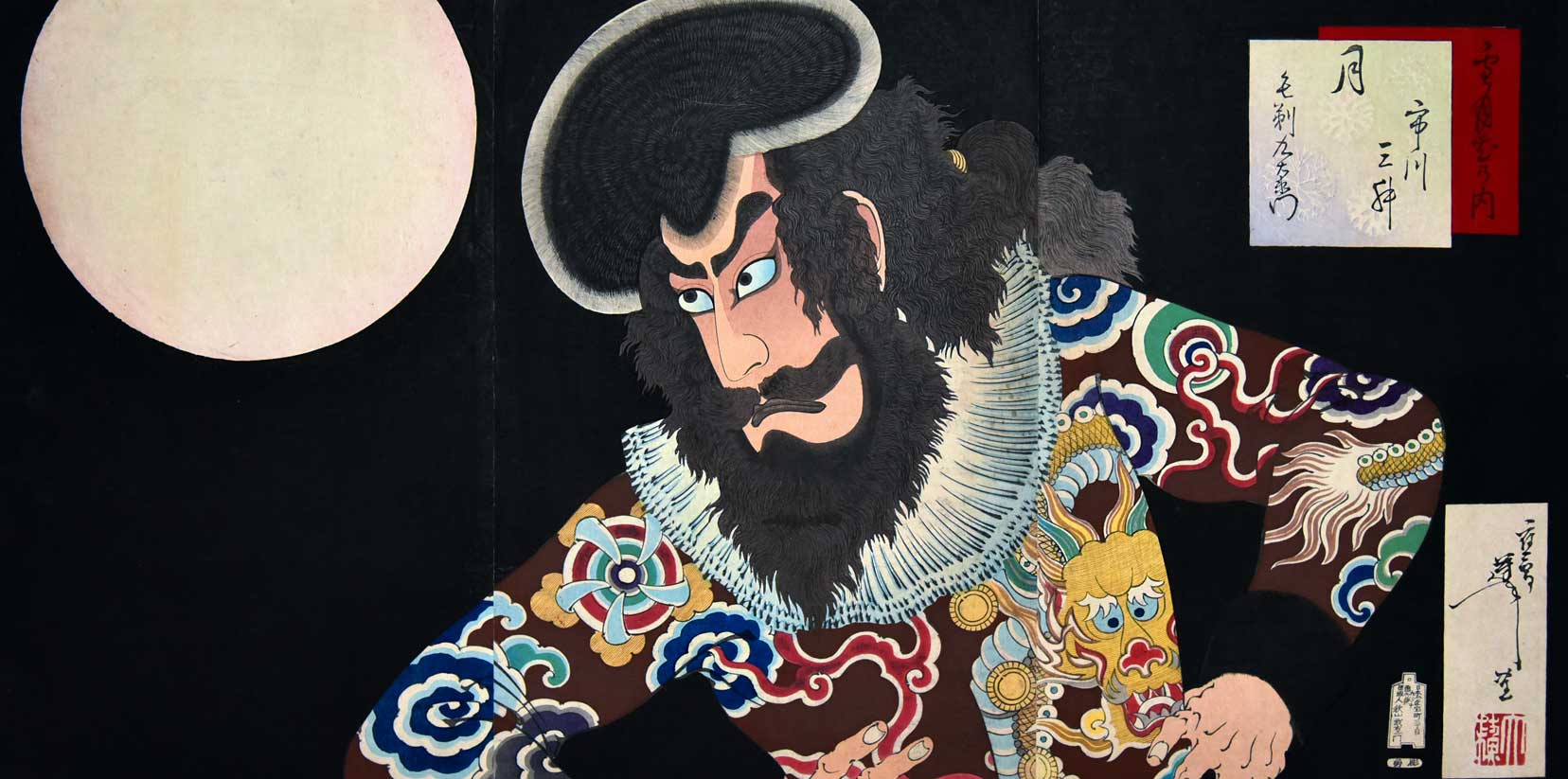 Actor Ichikawa Danjuro IX as the Pirate Kezori Kuemon from the Series Snow, Moon and Flowers
Meiji23 (1890)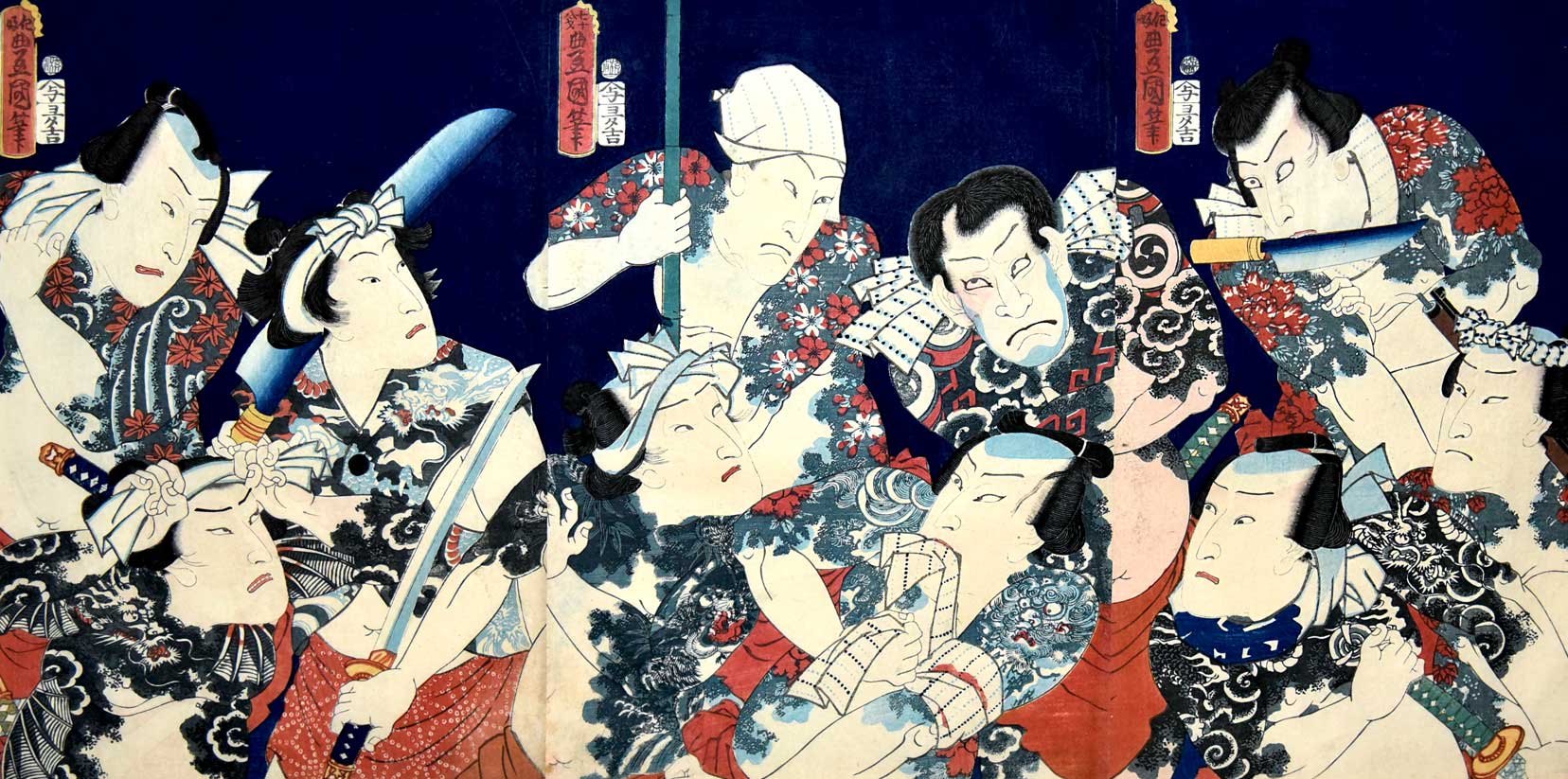 A Toyokuni Masterpiece: Ten Imaginary Portraits from The Water Margin
Bunkyu3 (1863)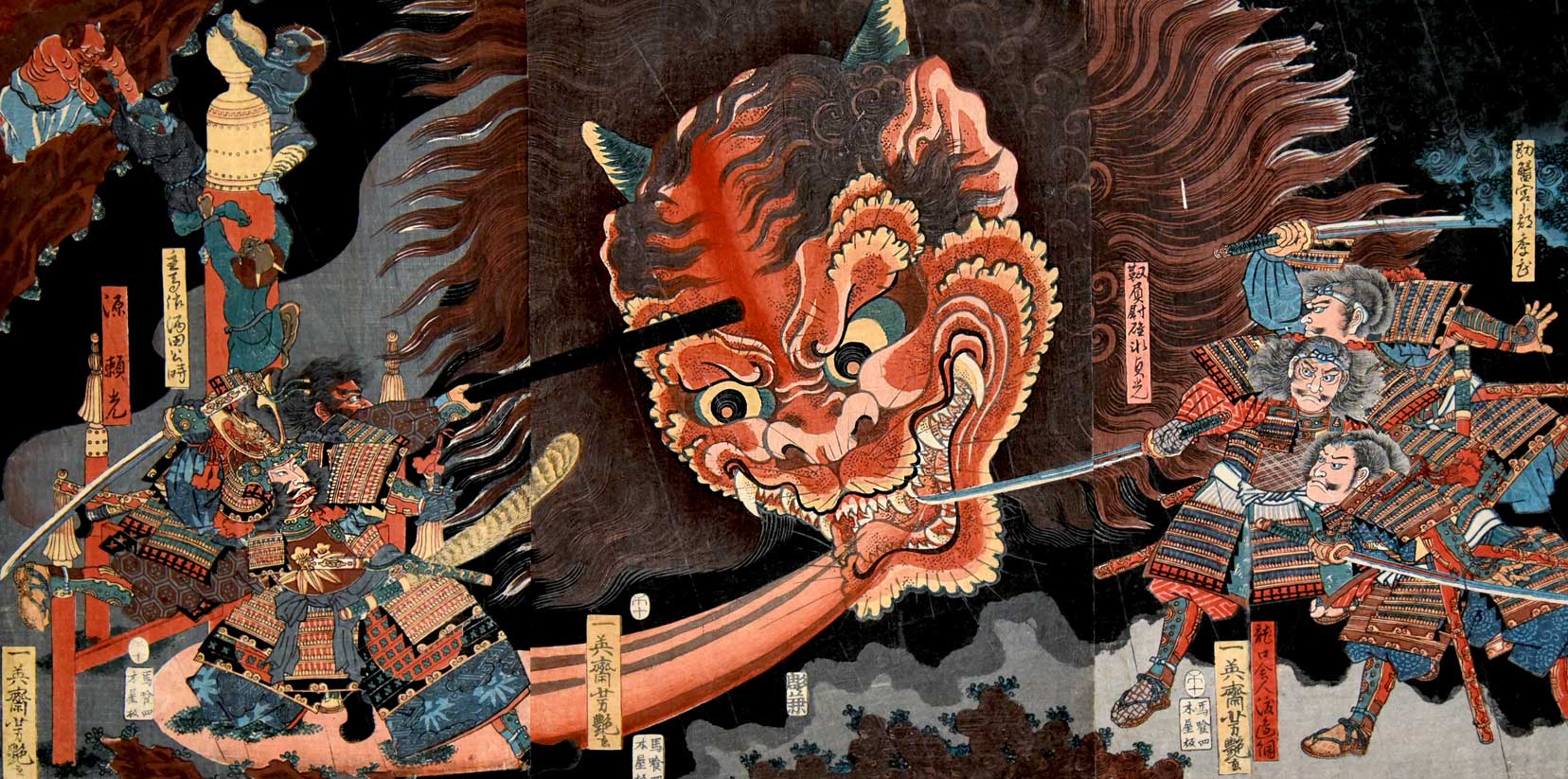 The Downfall of Shuten-doji of Oe Mountain
Ansei (1858)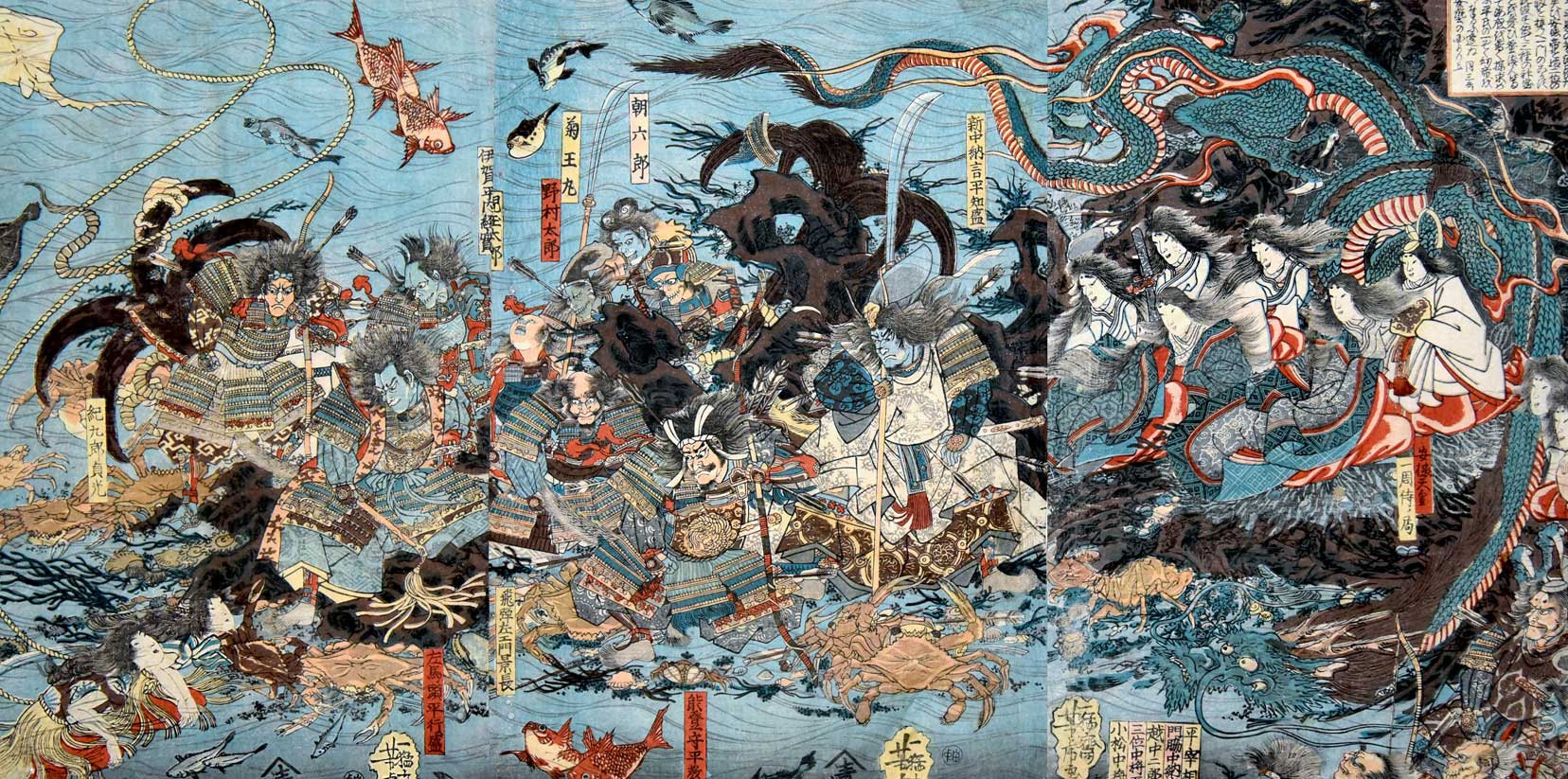 In the Western Sea, a Diver Encounters ghosts the Heike Clan in the Depths of the Water
Tenpo14-Koka4(1843-1847)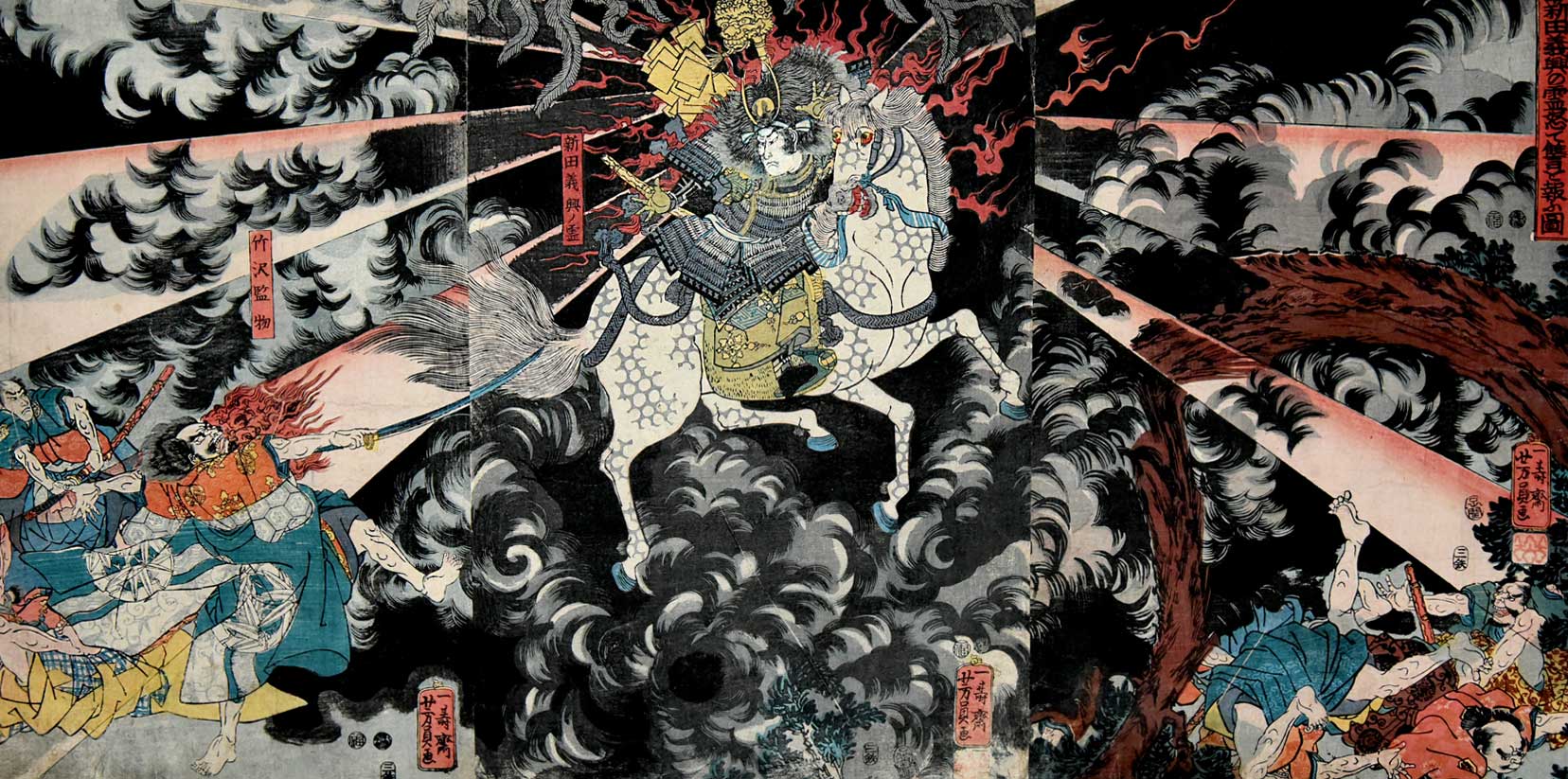 The Angry Spirit of Nitta Yoshioki Attacking the Enemy
Kaei5 (1852)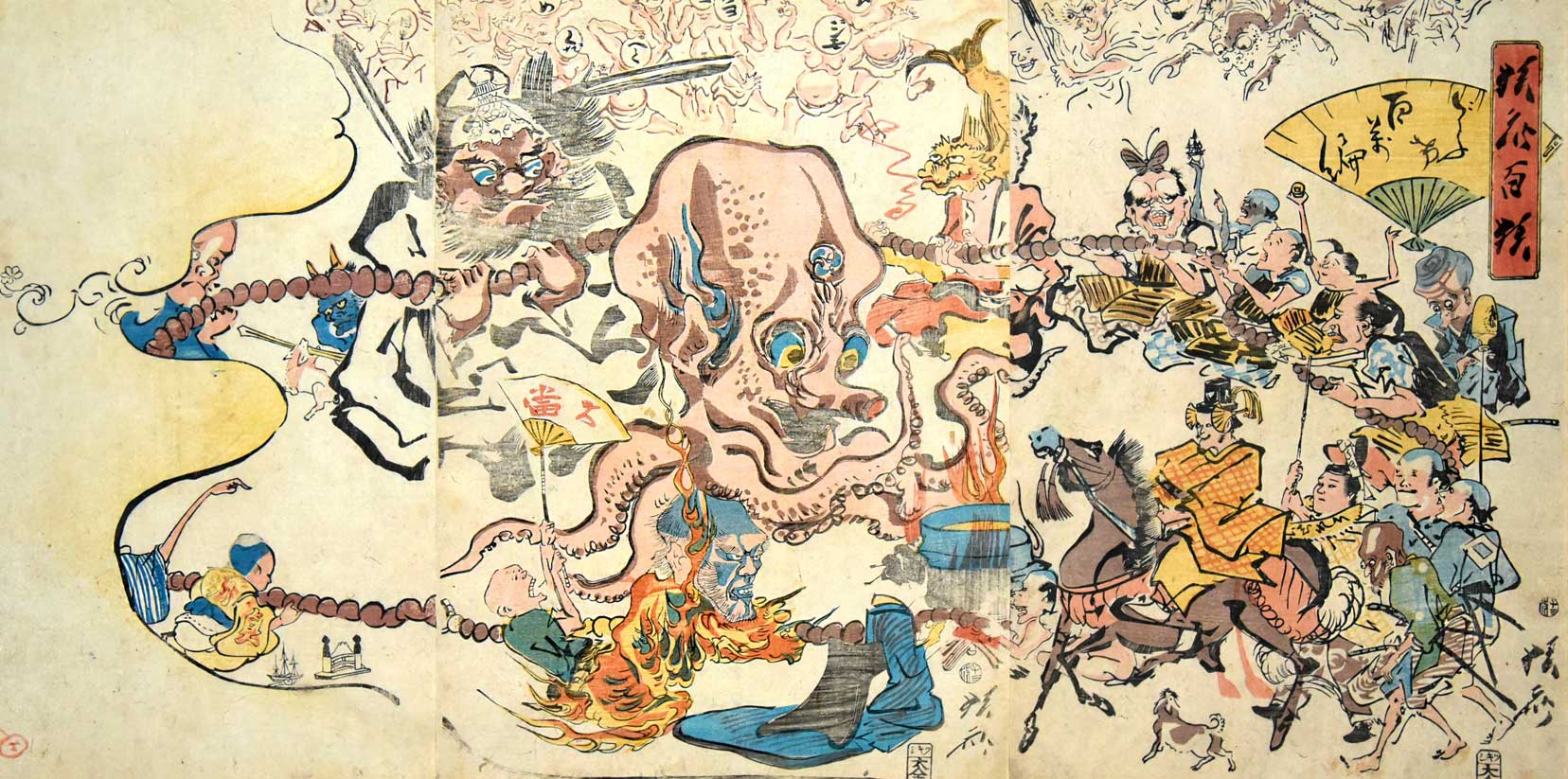 One Hundred Turns of the Rosary from the Series One Hundred Wildnesses of Kyosai
Genji1 (1864)
VISITOR INFORMATION
OPENING HOURS
10:00 -18:00(last admission at 17:30)
CLOSED
Tuesdays(except for national holidays)
ADMISSION
| Admission fee | Individuals | Group |
| --- | --- | --- |
| Adults | 1,300yen | 1,000yen |
| University / high school students | 1,000yen | 800yen |
| Elementary / middle school students | 500yen | 300yen |
| Preschooler children | Free | Free |
Group discount apply to a group of 15 or more. For group visits, please make a reservation by email.
Each visitor with disabilities and their caregiver receive a ¥300 discount.
Please note that the facilities are not wheelchair accessible.
ACCESS
UKIYO-E KURASHIKI / KUNIYOSHI
1-24 Honmachi, kurashiki City, Okayama, 710-0054 Japan
Tel: 090-8242-1443
BY AIRPLANE
JR Kurashiki Station by airport bus from Okayama Airport → 15 minutes on foot.
BY TRAIN
From Tokyo/Sanyo Shinkansen Okayama Station → JR Kurashiki Station → 15 minutes on foot.
From Hiroshima/Sanyo Shinkansen Sin Kurashiki Station → JR Kurashiki Station → 15 minutes on foot
BY CAR
From Tokyo/Hiroshima/Sanyo Expressway Kurashiki I.C. → About 20 minutes
From Shikoku/Seto Chuo Expressway Hayashima I.C. → About 20minutes
PARKING
UKIYO-E KURASHIKI does not have a parking lot.Please use the parking lots nearby.
REQUESTS FOR VISITORS
Please disinfect your hands and wearing a mask when entering the building.
Please do not touch the artworks or display cases.
Please do not take photographs, videos, or sketching in the exhibition room.
Please do not use your mobile phones.
Please keep voices low and be mindful of others.
Please do not eating or drinking and smoking .
Please do not use ball point pens or fountain pens other than pencil.
Please place your umbrella in the umbrella stand.
Please do not bring in the large luggage.Please use the coin lockers.
Pets are not permitted.
We are not responsible for accidents which occur due to visitor carelessness.
please follow the instructions of our staff.
NEWS
2023.08.22
Notice of temporary closing
We will be temporarily closed for renovation work on Monday, August 28, 2023.
We apologize for the inconvenience and appreciate  your understanding.
2022.12.04
About business hours for the year-end and New Year holidays
UKIYO-E KURASHIKI / KUNIYOSHI is open 7 days a week during the year-end and New Year holidays.
We look forward to your visit.12/29(Thu)〜1/5(Thu) Opening Hours 10:00~18:00 ( last admission 17:30 )
2020.04.13
UKIYO-E KURASHIKI Museum's measures to prevent the spread of the COVID-19 infection
To ensure the safety of all visitors and our employees, UKIYO-E KURASHIKI Museum takes several measures to prevent the pread of theCOVID-19 infection. Please read the following instructions before your visit. We appreciate your cooperation to contain the spreadof COVID-19.Considering the situation, further changes might be made. Please check our website for any updates before your visit.
CONTACT
Please note that it may take some time for us to respond to your inquiry.